Aloha readers :D
A couple of days ago, my mom, my older sister Rachel, and I went shoe shopping! We went to the mall on a hunt for a good pair of shoes or heels to go with my sister's dress for her graduation this Saturday! Yes, my older sister is graduating from High School, I'm so excited for her :) I have the honors in doing her makeup for her graduating ceremony thingy this Saturday, so I'm excited to do that too.
I'll try my very best to make her prettyyyy :P
We had a good girls day out and along the way I did a little shopping myself, picked up a few items that I am going to show you guys :) Before that, here's a little show and tell about the pair of wedges we got for my sister's graduation!
Mom got a pair of shoes herself (which I will show you after my sister's) from Camel Active and my sister's pair of wedges are from Zang Toi :) We bought both pairs of shoes at the shoe department of Isetan at KLCC by the way.
After trying on a few pairs of shoes from different brands, we decided to go with this one from Zang Toi. I, personally, really like it a lot. The plan was to actually purchase a pair of shoes in the color black to go with my sister's black dress but after comparing this shoe in black and in the grey shade, we came to a conclusion that this grey one suited my sister's skin color better.
My sister's new leather wedges are simple and classy, I especially like the 'crown' pin on the side of the wedges. I'm glad we were able to find a pair of shoes that a) fit my sister's skin color, b) compliment her body and look, and c) match her dress ;) It's a great buy!
~
Now, for my mother's brand new shoes, she got these babies from Camel Active. I am not sure what this kind of shoe is called (are these pumps? :O) , if you do know what the particular name this kind of shoe is, let me know in the comment section :P I'm not good in shoe types and names. But I like to call this the Mama Shoes, because I call my mom, 'Mama', and because she seems to wear this kind of shoe quite often. She bought this pair to retire her old one which is from the same brand (Camel Active). Mama claims that it's a very comfortable pair of shoes, I'll probably be getting one too in the future because my Mom keeps praising and recommending it! :P
~
I also made a trip down to the Kinokuniya bookstore to make some purchases, I got 3 C.S Lewis books (Mere Christianity, The Problem of Pain, The Four Loves) which I am VERY excited to be reading! I'm a slow reader so finishing these 3 will take some time but I'm just going to take my time enjoying every single wisdom-filled thought Mr C.S Lewis has written in these books. I am a HUGE fan of Mr C.S Lewis and his works, I absolutely enjoyed and loved his Chronicles of Narnia series to bits, and so I decided that it is only right for me as a fanatic to read his other works. And let me tell you, I have yet to complete all the books but I can tell, these 3 are going to be brilliant.
~
I have kept the best item for last...I'm really happy about this item, I'm really glad I got it.
I got a KNITTED BEANIE! :D It's incredibly cute!
Here's a picture I tweeted of me wearing it, I couldn't keep it off my head that night after I got it, I wanted to wear it immediately!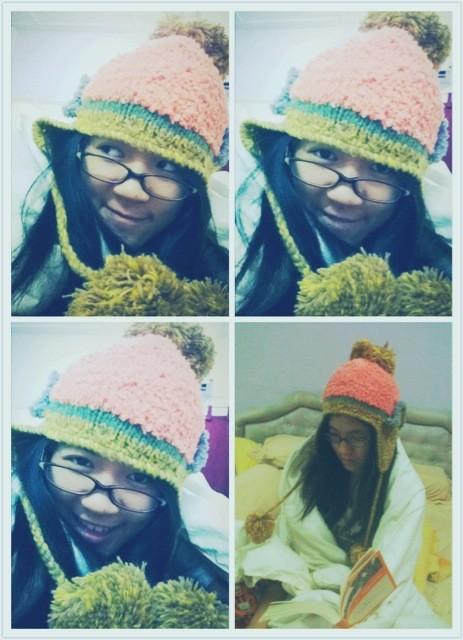 I look like an excited little kid :P
And I also Instagrammed an adorable picture of my sister wearing it and I compared it to the famous Korean cartoon character Pororo (the cute penguin!)
TWINS! My sister's enormous trendy 'nerd' specs made it look like she was wearing goggles :p I had a good laugh.
I started wanting this knitted beanie with the fluffy ball on top and attached to the hat when I was watching the hilarious Korean drama 'Wild Romance' starring Lee Dong Wook and Lee Si Young. Lee Si Young played the character, Yoon Eun Jae, whom I think is the CUTEST character ever, I think Lee Si Young did a MARVELOUS job acting in this drama. But for those of you who haven't watched this funny and entertaining drama, 4 words, go check it out. Getting back to the beanie, Lee Si Young wore a lot of knitted beanies in this drama and she looked incredibly adorable in them.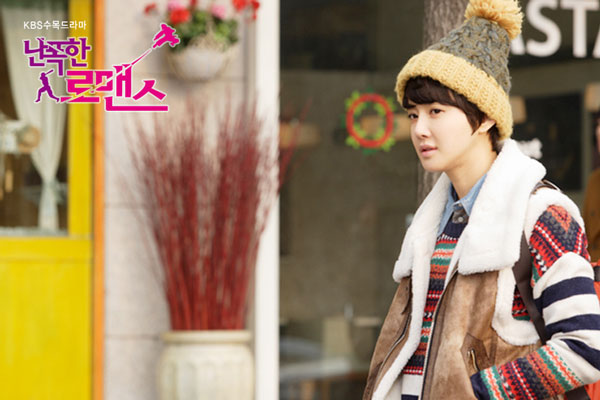 It also reminded me of Edith from Despicable Me, she's the sister that's most tomboyish and wears pink, I wonder how does that go together, tomboy and pink :O
Anyway, while walking down the hat and accessories aisle, we came across several knitted beanies with fluffy balls and I immediately made up my mind to get one, how do I resist? I will be wearing this on my upcoming trip to Hong Kong Disneyland (my 3rd time!). So excited to wear my new knitted beanie out! This beanie I guarantee will keep your precious heads warm and stylish :P
~
You have reached the end of my haul post! :D I hope you enjoyed reading, be sure to leave a comment!:)
Have a wonderful day!
Lizzy
follow me on instagram!: @dearlittlefriend
follow me on twitter!: @ms7may